Teaching and learning is central in the mission of the Church, in fact it is "the mission" of the Church. Therefore, every baptized Christian is called to teach and learn. The goal for the establishment of this Department is to offer a venue for the laity to be equipped and informed with the necessary skills and knowledge to be able to actively respond to Christ's call of teaching and learning. It's a strategy that hopes to help the congregations in their quest to understand what they believe and profess as Episcopalians and as Christians in general.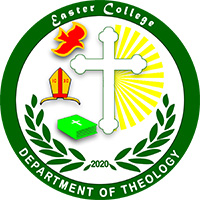 Programs Offered
Bachelor of Arts in Theology
This is a degree for those who want to become a Values/Christian Education teacher. (This will be offered for the school-year 2022-2023).
Diploma in Theology
This is meant for those who are interested as lay Eucharistic ministers, readers and preachers or for knowledge accumulation and trainings only.
Certificate in Advance Theological Studies
This is offered to those who intend to take the Canonical Examinations and eventually to the ordained ministry.
Certificate in Anglican Studies
This is for those who are interested to know more about the Anglican ethos, history, theology, liturgical practices, and Church polity.
Certificate in School Chaplaincy
This is for clergy who are interested in dynamics of school chaplaincy. (This program is in partnership with the ECP National Office).
Mission
Easter College Department of Theological Studies is dedicated to raising, encouraging, monitoring, and nurturing students to become well-informed Christian leaders and teachers not only in their respective parishes but also in the wider Church community. The department strives for excellence in the service of Jesus Christ, under the guidance and power of the Holy Spirit, to the glory of God.